I could've photographed these bridal details all day!
Katie was surrounded by dear friends who doubled as hair and makeup experts.
The bride and groom exchanged love letters while they were getting ready, and it was so sweet to watch them read!
It's always a team effort for those last minute preparations…
Family members were pretty excited to see Katie as a bride, too!
These sweet ladies were just glowing. There's nothing like seeing bridesmaids bask in the joy of seeing their friend so happy.
Same goes for these handsome guys! I was feeling the brotherly love, too.
This generous bride had some special gifts to give before walking down the aisle.
Ceremony time! Dr. Bill Warren's officiating was perfect, honoring Katie & Michael's families and their relationship with God. I loved his reminder that Eve came from Adam's side, indicating that the two were meant to be partners rather than rulers over one another. Amen!
A definite highlight of the ceremony was the cord of three strands. This passage from Ecclesiastes is one of my favorites (that Alex and I used in our own wedding), and the way the braiding of this cord was incorporated into the ceremony was truly beautiful.
Husband and wife at last!
What a joy to capture family portraits just moments after this crew became ONE big happy family, indeed!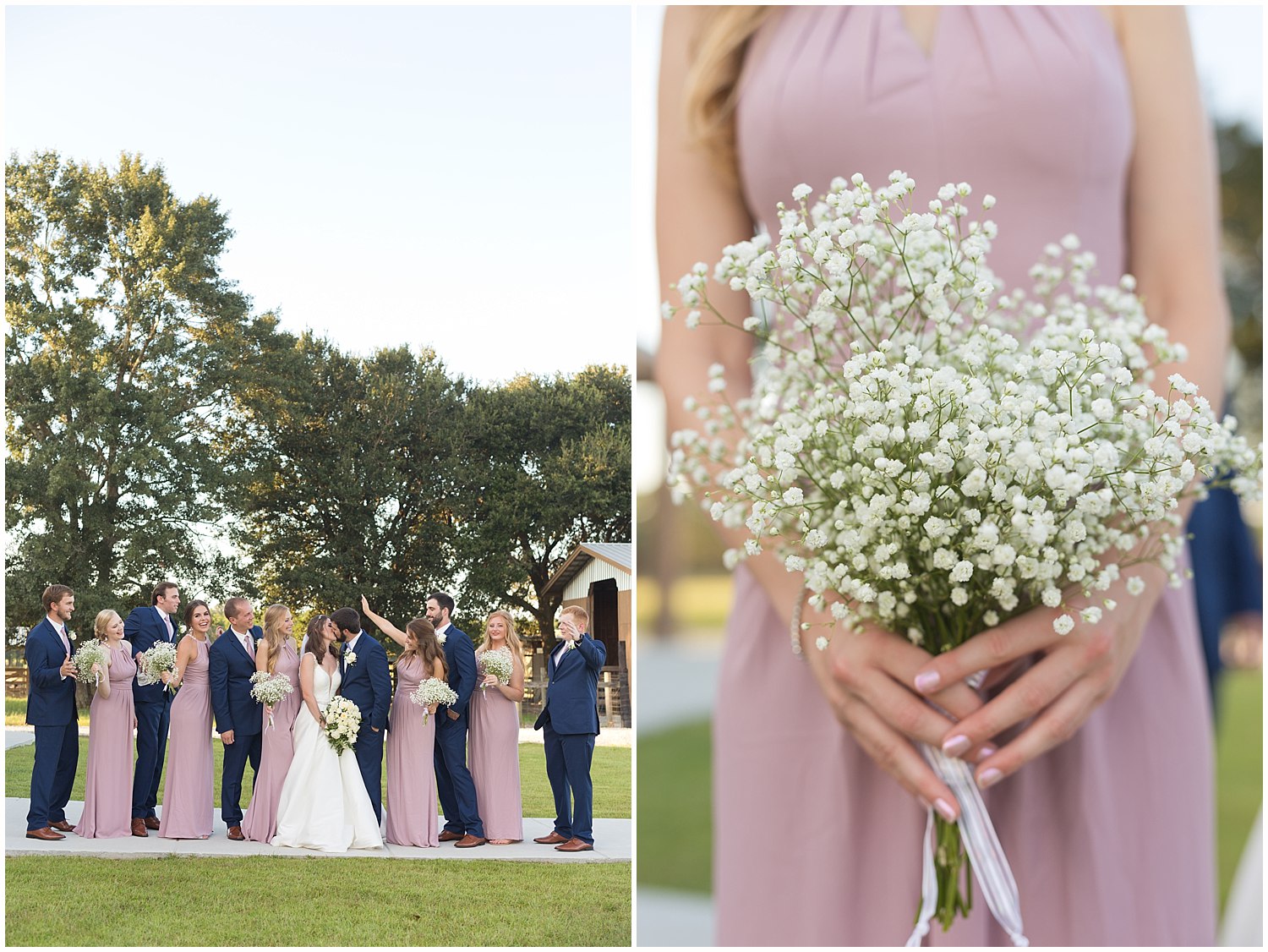 My favorite part of any wedding day is the portrait time with just the bride and groom. It's such an honor to document the absolute joy of this brand new union of marriage.
Ever since I visited The Barn at Love Farms for the first time earlier this summer, I'd been envisioning this adorable swing as the perfect portrait spot, and it did not disappoint! What a perfect place to "pose" the lovely bouquet (by Skinner's Florist.)
When Katie & Michael perused my sample wedding album, I pointed out my favorite bride and groom portrait to date and said, "Let's see if we can top it!" They were skeptical, but I think these swing portraits really are my new favorites.
Speaking of albums, their album of engagement photos made a perfect guestbook. I love designing these, and it's exciting to see them in action!
These two wasted no time hitting the dance floor for all the special first dances.
After the savory goodness was gobbled, up, there were plenty of tasty treats to enjoy!
Of course, the cakes took center stage.
Michael & Katie really had fun with the cake-cutting tradition (using her parents' serving set)!
Toast time! There were some really sweet tributes to this precious couple from their dear friends. (Don't worry, Michael, I didn't make it to your Facebook profile in time to see the embarrassing stuff.)

Time to dance! DJ Cowboy played some good tunes!
The DIY photo booth was a big hit, too!
Such a fun crowd! It really did feel like one big HAPPY family everywhere I looked.
Congratulations, Mr. and Mrs. Harris! It was a true blessing to document this new beginning, and I am confident that it is just that—only the BEGINNING of what will continue to be an absolutely beautiful story.